The APU Women's Athletic Team, now in their sixth year, focuses their efforts on mid-and long-distance races and the Ekiden race. Each year has seen a steady improvement in the team's ability. In particular, 2005 spring enrolee WANJOHI Mary Wangari(APS 1, Kenya) who put in a spectacular performance to finish first in the 74th All-Japan Emperor's Trophy Intercollegiate* Athletic Championships-bringing to APU its first intercollegiate championship victory.
The team is currently undertaking a gruelling training schedule in preparation for the All-Nippon Ekiden Women's Road Race.
By fine-tuning their overall team work the team hopes to take out their first championship.
| | | |
| --- | --- | --- |
| | | Intercollegiate Championship Report -- WANJOHI Mary Wangari |



At this year's Intercollegiate race APU Women's Athletic Team member WANJOHI Mary Wangari, in her best time to date (15:56·34), put in an amazing effort to finish in first place. Ms. WANJOHI left a lasting impression as she ran side-by-side Japan's top athletes in a cool and collected manner.
She has had a love of running since her childhood and dreamt that she would one day come to Japan which has a thriving athletics environment. When asked what the appeal of athletics is, she was unmistakably upfront as she said: "It is the exhilaration of winning". Ms. WANJOHI added that she will be making her debut at the Ekiden Race and hopes to make the team proud with her performance there.
| | | |
| --- | --- | --- |
| | | Going for Gold! |



On November 27, APU will be making its 5th consecutive appearance at the 23rd All-Nippon Ekiden Women's Road Race to be held in Sendai. Needless to say the team will be aiming for first place. At the preliminaries for the Ekiden Race, due to an injury, Ms. WANJOHI was unable to compete resulting in the team finishing in second place overall. However the team hopes to harness that frustration for the national titles. Preparations are already under way at training camps where the team members are working hard to improve their performance even more so.

Everyone's continued support will be greatly appreciated.
| | |
| --- | --- |
| | *This refers to the All-Japan Intercollegiate race |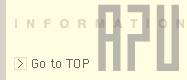 | | |
| --- | --- |
| | APU's First Triumph! |